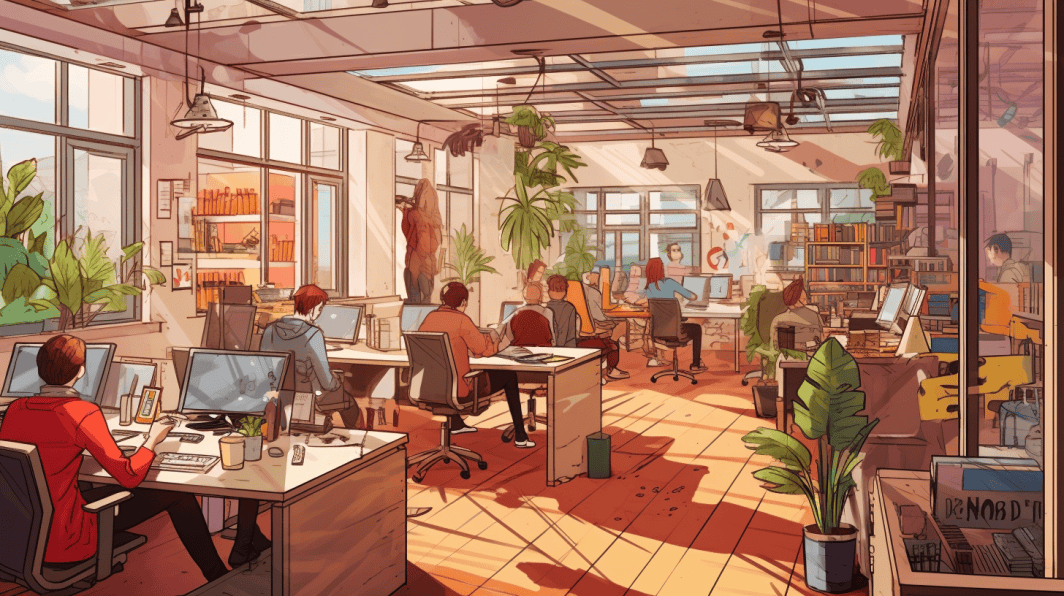 Best Coworking Spaces in Berlin
Among other things, Berlin is home to some of the world's most renowned club queues, former airports-turned-gigantic-parks, and currywurst stands. As of 2023, Berlin is also the fastest-growing tech city in Europe. Quite a combination, isn't it?
And spawned between such a daft mix-up of amenities and a prospering tech scene, a new player has emerged in the German capital: the coworking spaces. Yes: Unsurprisingly, Berlin has some top coworking spaces for developers to take advantage of.
If you ever drop by a coworking space, you'll stumble upon tech acquaintances left and right. A study conducted by Startup Heatmap Europe found that 37% of would-be entrepreneurs wanted to set up a business in Berlin. In the past year, almost 6 thousand jobs were by Berlin-based startups and, in the first quarter of 2023, Berlin yielded more than €730 million in venture capital funding. An excellent networking option, coworking spaces have probably played a role in each of these figures.
How much does renting a coworking space in Berlin cost in 2023?
Prices for coworking spaces in Berlin vary widely depending on location, amenities, and services. On average, however, you can expect to pay around €100–€500 monthly for a basic hot-desk membership in a coworking space in Berlin.
Depending on the space, private offices or dedicated workstations may cost more, ranging from €500 to €1000 per month or more. Some coworking spaces also offer day passes or hourly rates for occasional use, which can be a viable option for those who don't need a full-time membership.
Factors to consider when choosing a coworking space
Consider your budget: As mentioned before, coworking spaces can range in price from €100 to €500 per month.
Think about your needs: Do you need a private office or a shared workspace? Do you require access to specific amenities, such as a conference room or a kitchen?
Consider the location: Do you want to be in the city's heart or a more relaxed neighbourhood?
Visit the space in person: This is the best way to see if it fits you well.
The top coworking spaces in Berlin in 2023
If you're looking for a vibrant and diverse community of like-minded tech enthusiasts and startups, even more so if they're English-speaking, we'll take you on a tour of some of Berlin's most exciting coworking spaces that are changing the game for tech workers and developers.
Betahaus
Location: Kreuzberg
Prices:
Betahaus is undoubtedly one of Berlin's most popular coworking spaces — and for a good reason. With two locations in Neukölln and Kreuzberg, the space is always buzzing with activity, and the vibrant community of like-minded individuals makes it easy to collaborate and network. With various work areas, ranging from quiet corners to open collaborative spaces, Betahaus has everything you need to be productive and creative.
Betahaus provides event spaces of various sizes that can be used for hosting different kinds of events such as workshops, seminars, and networking events. They offer intimate meeting rooms as well as spacious event halls that can accommodate gatherings of all sizes, providing a high degree of flexibility and versatility.
Betahaus also has an on-site café that serves coffee and quick bites. The café offers a cosy and relaxed atmosphere and can be used for informal meetings, catching up with colleagues, or taking a break from work. Yeah, commuting to a coworking space to not work at all — why not?
Among other honourable mentions, Omio (also known as GoEuro, especially to millennials) got its start at Betahaus. This travel platform that makes it easy to compare and book trains, buses, and flights across Europe — and save chump change to spend it on burritos at the bus station — was born right here in the buzzing atmosphere of Betahaus. Who knows, maybe your next big idea will take flight here too.
St. Oberholz
Locations: Mitte, Kreuzberg, Tempelhof and Schöneberg
Prices:
Coworking spaces: currently fully booked
Fixed desk: from €300 per month
Founded in 2005, St. Oberholz is one of the first coworking spaces in the German capital. Locations vary, but, usually, the space features a modern, minimalist interior design and is equipped with all necessary amenities to foster productivity. St. Oberholz is also a great option if you need a conference room. The coworking space offers a range of flexible meeting rooms suitable for various purposes, whether it's an intimate four-person gathering, an engaging workshop with a larger group, or a full-team conference.
Their meeting rooms operate on a convenient plug & play principle, ensuring a hassle-free experience. You'll find all the essential tools readily available, including a reliable WLAN connection, a TV screen for presentations, a whiteboard for collaborative brainstorming, a flipchart for visual aids, and materials for moderation. St. Oberholz also offers optional catering services. Whether you require a light snack or a full-fledged meal, their catering service ensures you and your team can focus solely on the tasks at hand without worrying about hunger pangs.
Now, telling your developer colleagues you've been working at St. Oberholz might earn you leery looks and eye-rolling gazes: Some locales are better known for their speciality café latte than for their working environment.  
For example, one repeated complaint seems to be its somewhat outmoded Wi-Fi policy — and the coworking's hard-to-follow instructions. A worker posted on the Internet how, upon arriving at the Luckenwalder Straße location, she hoped to obtain a day pass as advertised on the Google Maps profile. However, the staff at the café were unable to assist in obtaining one. Additionally, the Wi-Fi signal in the café was not strong enough to allow for remote work. This might be the exception, but pick your St. Oberholz location wisely.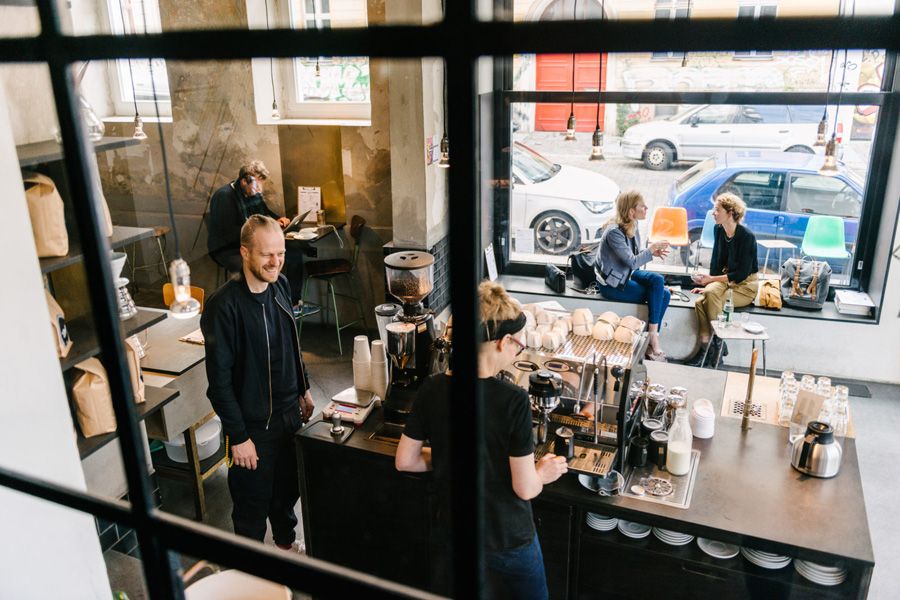 Thunderbolt Collective
Location: Kreuzberg
Price: €500 per month
What's included?
1 desk
mailing address
conference rooms
300MBit up-/downstream (is that greater than the 36 m³/s discharge of the Spree?)
For creatives and techies looking to be part of a relaxed yet active community, Thunderbolt Collective is definitely worth checking out. With a focus on collaboration and creativity, Thunderbolt Collective provides a workspace where you can collaborate with like-minded individuals to share ideas and tackle projects. The space is designed to be open and inviting, with lots of natural light and comfortable seating areas. And with regular events and workshops, Thunderbolt Collective provides ample opportunities to learn, grow, and connect.
tuesday coworking
Locations: Schöneberg, Wilmersdorf and Neukölln
tuesday coworking has to be one of the cosiest coworking spaces in Berlin. With four locations, this space provides a welcoming and homey environment perfect for those looking for a more personal coworking experience. The raum is designed to be warm and inviting, with lots of natural light, comfy chairs, and quiet corners for focused work. And with a small community of freelancers and entrepreneurs, tuesday coworking provides a great environment for networking and collaboration.
Additionally, TuesdayCoworking has established itself as the ultimate destination for podcasting enthusiasts in Berlin. This coworking space provides an ideal environment for recording your podcasts by offering state-of-the-art sound-absorptive phone booths. These booths, designed to accommodate two people, come equipped with top-notch podcasting equipment, including three RØDE microphones (incredibly useful to practice your Danish or Norwegian fluency), three pop filters, a Zoom H6 Recorder with 4 XLR inputs, and Sennheiser headphones. Members enjoy the added benefit of having all these essentials included in their membership package. The booth can be rented for non-members at a minimal cost of €15 per hour, provided an appointment is made. Worried about the technical aspects? Fear not! The in-house engineer is readily available to guide you through the setup process, allowing you to focus solely on crafting your captivating storyline.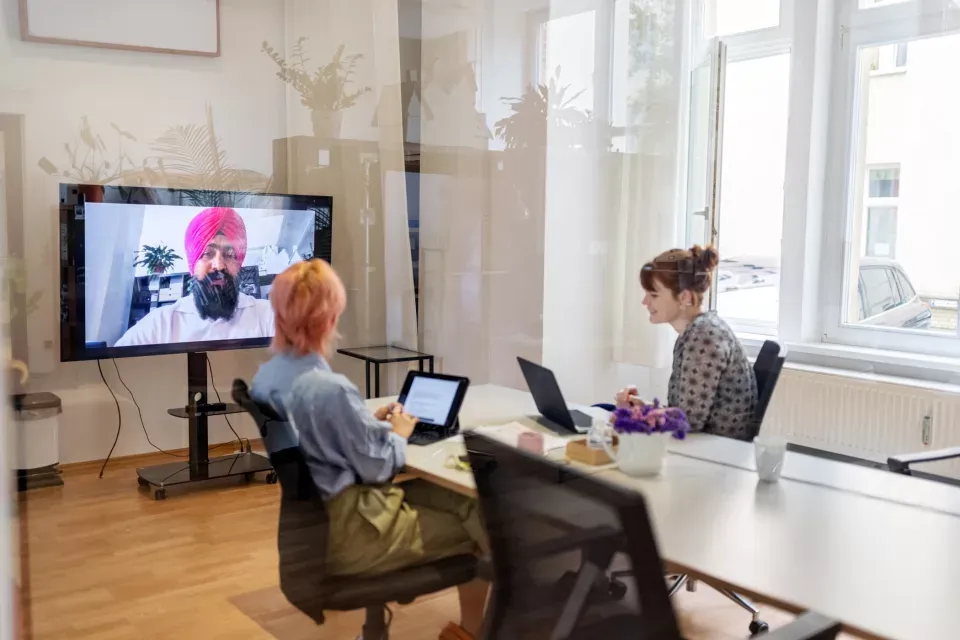 b+office
Location: Kreuzberg
Day ticket: €14.71
5 days ticket: €60
10 days ticket: €110
b+office is full of character, with high ceilings, plenty of natural light, and an industrial-chic design that's both stylish and functional. It is a placid workspace that offers a flexible and collaborative environment between Platz der Luftbrücke and Viktoriapark, near the lively Bergmann-Kiez district.
You'll find fully furnished individual or team offices with various size options ranging from 8 m² to 49 m². The space offers flexible work areas, from private offices to shared desks, along with all the amenities you need to be productive, and reviewers rave (pun intended) about this coworking space. One satisfied patron described the space as "quiet" with "nice community and services," – an environment where they could achieve more. The free coffee, certainly, was a delightful bonus. Visitors frequently commend the high-speed Wi-Fi, attributing it to their efficient workdays, and the staff who are always on hand to assist.
Motion.lab
Locations: Alt-Treptow and Marzahn
Motion.lab is a genuinely remarkable coworking space for makers and creatives. Whether you are a woodworker, metalworker, or tinkerer, this space has been thoughtfully designed with all the necessary facilities, including a state-of-the-art workshop, metal shop, and prototyping facilities, to help you bring your ideas to life. This workspace offers a unique opportunity to work alongside other creatives and makers, collaborate, and grow your skills in an environment of creativity and innovation.
The coworking space offers an impressive array of diverse events each month, catering to a wide range of interests and preferences. Whether you're seeking informative sessions, engaging entertainment, hardtech insights, digital gatherings, or thought-provoking business discussions, you will surely find an event that suits your tastes. For those curious about MotionLab.Attending one of their events is the best way to get acquainted with Berlin and the spirited community it embodies. Simply register online for an event in Berlin, mark your calendar, and prepare to immerse yourself in a welcoming atmosphere. Upon arrival, you can grab a drink, mingle with fellow attendees, and most importantly, have a great time.
KAOS
Location: Hochzeiten
Nestled on the banks of the Spree, KAOS, or the Kreative Arbeitsgemeinschaft Oberschöneweide, presents a mix-up of coworking, film, and photo shoot venues.
What sets KAOS apart in the Berlin coworking scene is its multi-faceted appeal. Members can utilise a 136 m² daylight-filled studio, an architectural testament to Berlin's industrial charm with high ceilings, large windows overlooking the Spree, steel trusses, and bricks, perfect for film and photo shoots.
But even though KAOS pitches itself as a tech coworking space with infrastructure for filming an indie sleeper hit film, that selling point is just one side of the coin. Visitors report that the chaotically polyfunctional establishment consistently hosts public events, exhibitions, and concerts; reviews sporadically even mention weddings. Attendants might ramble about how they either loved working by the waterfront — which probably took their attention off their screens — or how they attended a rave there — only to realise in perspective that KAOS was a coworking space and not a venue. They're in Berlin, so we can't blame them for that.
KleinMein Coffee & Coworking
Location: Friedrichshain
Prices:
1 hour: €5
3 hours: €10
Full day: €15
At KleinMein Coffee & Coworking, you'll find a welcoming environment that fosters productivity and enables you to work without distraction, whether you need an hour or an entire day. Take advantage of flexible hourly tickets and memberships to work quickly and comfortably. Experience the perfect blend of a café ambience with a professional coworking atmosphere, where you'll have access to a nurturing space for you to focus on your tasks and achieve your goals.
Coworkers have noted that this particular coworking space stands out due to its charming and cosy ambiance. Specifically, guests have mentioned that the owner, who hails from Greece and provides personalised service, adds a delightful touch of humour to the atmosphere. The interior design is tasteful, featuring stylish and comfortable furniture that invites you to settle in and stay awhile. The abundance of interior vegetation further enhances the space, creating a pleasant and welcoming environment. For those seeking some fresh air, there is also an outdoor area where the sunlight filters in beautifully.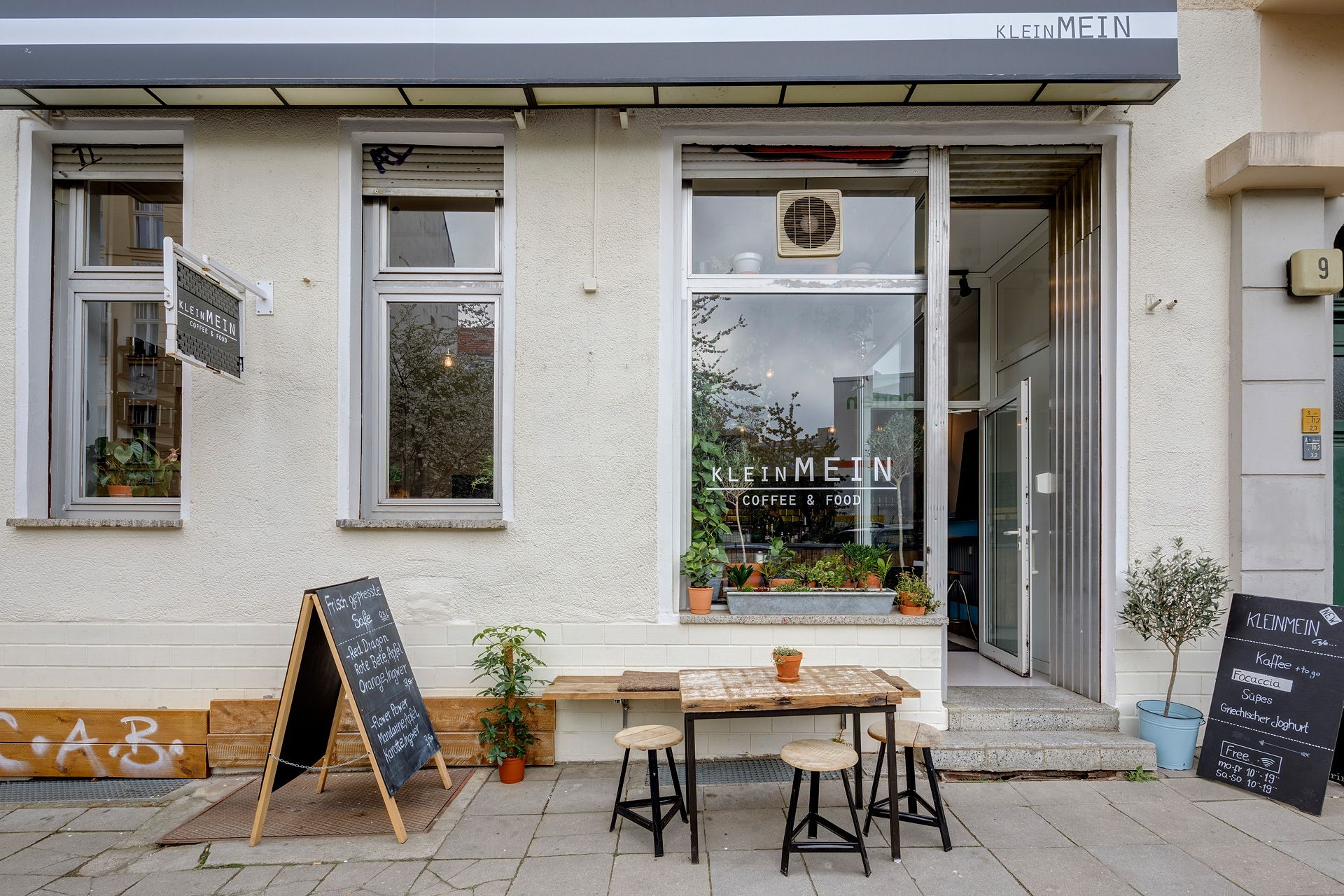 Summary
So, there you have it, the 8 best coworking spaces in Berlin in 2023. These are just a few of the many great coworking spaces in Berlin. With so many options to choose from, you're sure to find the perfect space to call your own. Whether you're a tech worker, developer, or creative, there's a space here for you.

Join the newsletter to receive the latest updates in your inbox.